Episodes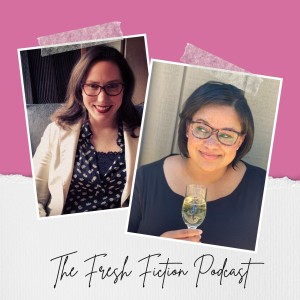 Friday Nov 26, 2021
Friday Nov 26, 2021
Vibe Check
Gwen is BOOSTED! And she is glad she has planned for Thanksgiving in advance.
Danielle is working through THE ACCIDENTAL PINUP's pass pages and book 2 revisions, and had an awesome chat with Denise Williams on the 11/19 episode of the Boozy Book Broads.
Gwen is thankful for her move across the country, meeting silly dogs and pets in her neighborhood, and feel-good TV like Ted Lasso and Rick & Morty.
Danielle is thankful for the health of her family, her dream coming true of becoming an author, her pandemic hobby (watercolor painting), Harlequin Desire romance novels (we chatted with Naima Simone and Reese Ryan on the pod), and Ted Lasso.
 *
Main Discussion
Thank you to EVERYONE who sent in questions!
Best New-to-You Author
D: Edie Cay, Kaia Alderson, Bolu Babalola
G: Abby Collette, Olivia Dade, Preslaysa Williams
Holiday Book Recs
D: YA-Happily Ever Afters by Elise Bryant, Cookbook-Simply Julia by Julia Turshen, Historical-The Kat Holloway Mystery series by Jennifer Ashley or Bombshell by Sarah MacLean, Mystery/Suspense: The Final Hour series by Juno Rushdan
G: YA-a nice omnibus of a beloved YA classic series like The Hunger Games, Narnia, or Percy Jackson, Historical-anything by Lauren Willig, Mystery/Suspense: David Baldacci
Favorite thing about the podcast
G: having a creative outlet and building on our friendship
D: working with Gwen! And doing deep dives.
Holiday Shopping in 2021
D: we can actually go to stores, paring down on spending, and buying local as much as possible
G: more online shopping for me, and trying to be thoughtful about gifts
Movies We Are Looking Forward To
G: King Richard and Tick, Tick... Boom!
D: House of Gucci, Spider Man: No Way Home, The Hating Game, Downton Abbey: A New Era
Favorite holiday food and Tradition
D: Food-corn pudding. Tradition-Thanksgiving is the holiday we don't go anywhwere!
G: Food-chunky mashed postates. Tradition-watching the dog show and the Macy's parade
EBook Organization
G: Impossible. Although I do love folders, but I can't ever find what I'm looking for again
D: I don't! It's chaos!!!
Guests on the Pod
D: dream guests-Beverly Jenkins, Brenda Jackson, Susan Elizabeth Phillips. We've been so lucky in our guests who have been so generous with their time, like Alyssa Cole, Talia Hibbert, Naima Simone, and Lauren Willig (and seriously, everyone else).
G: we'd love to interview industry professionals-editors, agents, cover designers, screenwriters, actors, more film & tv critics, etc.
*
Goals/Comfort & Joy
Danielle watched a TON of TV (Succession, Dickinson, Call the Midwife, Only Murders in the Building, Howards End, Ted Lasso, Queen Sugar – goal achieved! This week she would like to finalize her holiday shopping lists.
Gwen started journaling daily because Danielle sent her a one line a day journal! Her new goal is to sleep 7-8 hours a night, and trying to go to bed by 10pm.
Danielle's Comfort: Harlequin Holiday Romance Novels! Moonlight, Menorahs, and Mistletoe by Wendy Warren, Christmas at the Chateau by Rochelle Alers, What He Wants for Christmas by Brenda Jackson, Christmas Miracle in Jamaica by Ann McIntosh and breakup albums (Adele's 30, Taylor's Red, and Kacey Musgrave's Star-Crossed)
Gwen's Comfort: Cowboy Bebop, both the original anime and the new live action show.
*
EMAIL US!
Thoughts or questions? Email us at danielle@freshfiction.com.
*
Find us on the Socials!
Gwen Reyes
Danielle Jackson
Fresh Fiction