Episodes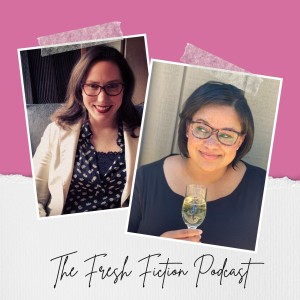 Thursday Sep 16, 2021
Thursday Sep 16, 2021
It's Gwen's Birthday week!!!!!!!!! She also put together one of the new desks in her home and it's making things feel complete.
Danielle participated in #20Kin5Days! It's hosted by author Tasha L. Harrison and her Wordmakers community. It only opens to new members every few months, so sign up for her newsletter if you're interested in future challenges or are looking for a place to connect with other writers. In addition to writing 20K on a new WIP, Danielle also published her author website: https://daniellejacksonbooks.com/
*
WRITING AT LARGE IN POP CULTURE
Gwen's Recs: Can You Ever Forgive Me? (screenwriting), Girls (Millennials writing), Ruby Sparks (writer's creation coming to life, see also Stranger Than Fiction), Almost Famous (music writing), Young Adult (YA author), HappyThankYouMorePlease (for a shade of ridiculous publishing portrayal), Quills (Marquis de Sade), Anonymous (Shakespeare), Poetic Justice (poetry), How to Make an American Quilt (thesis writing), Sex and the City (can't forget our girl Carrie)
Danielle's Recs: How to Lose a Guy in 10 Days (magazine features), Never Been Kissed (newspaper scoop, also, super problematic in retrospect), The Devil Wears Prada (Vogue), 13 Going on 30 (magazine features), The Proposal (editors), You've Got Mail (bookstores), Trainwreck (magazine features). Don't forget about Romancing the Stone (romance writer!!!); stay tuned for The Lost City of D with Sandra Bullock and Channing Tatum. TV: The Bold Type (magazines), Younger (publishing), 30 Rock (TV writer's room)
Danielle also asked on Twitter for books featuring writers, because she could only think of the recent release, SEVEN DAYS IN JUNE by Tia Williams. Shout out to Leigh Kramer, Theresa Romain, Jon Keogh, and @ThanksForDaVenom for their recs. See the full list here: https://twitter.com/DJacksonBooks/status/1431022653821886472
 *
Recs from NAIMA SIMONE
Naima finds that doing writing challenges with a partner and writing out plots/outlines by hand help keep her on track for her word count goals!
She's a big crime show and reality TV fan!
She credits Nalini Singh with writing diverse characters before "diversity" was a big initiative in publishing and wants her diverse casts to be the norm across the board.
Things bringing her joy: her new dog, Dr. Death on Peacock, and Slasher Season 4
All of Naima's book coming soon:
August 24: Secrets of a One Night Stand
September 1: A Kiss to Remember
October 26: Christmas in Rose Bend
December 28: The Perfect Fake Date
Naima's Website: http://naimasimone.com/
 *
Goals/Comfort & Joy
Gwen did complete her goal last week and put together one of the two new desks (the second is on it's way)! This week, she wants to reconnect with friends by sending some fun local Seattle products and cards/letters. She also took a trip to Penzey's and bought a million spices which is bring her much joy.
Danielle, in no way shape or form, even tried to clean out her guest room closet (she has decided she's over it). This week, she wants to be better about reading before bed and not just scrolling on her phone. Danielle is obsessed with her Out of Print x S'Well composition notebook water bottle that she got on SUPER sale, and that makes her happy.
*
EMAIL US!
Thoughts or questions? Email us at podcast@freshfiction.com.
*
Find us on the Socials!
Gwen Reyes
Danielle Jackson
Fresh Fiction