Episodes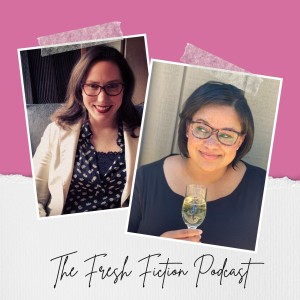 Thursday Jun 24, 2021
Thursday Jun 24, 2021
Vibe Check
The Type-A Queen of our hearts: Gwen has created a spreadsheet for her new local dining options!
Actual human interaction!?! Danielle hosted an in-person event to celebrate Love's Sweet Arrow's 2nd anniversary! Our pal, @TheLindaShow, took some fun photos!!
Romance Tropes
If you are interested in more in-depth coverage of Romance Tropes and what they mean and why romance readers love them, check out these great podcasts: Fated Mates, Learning the Tropes, Whoa!mance, and Shelf Love.
Our Faves and Recs!
Danielle's favorite tropes and recs:
Second chance romance: Reese Ryans's A Reunion of Rivals and Second Chance on Cypress Lane, Naima Simone's The Road to Rose Bend
Enemies to lovers: The Hating Game by Sally Thorne, The Ex-Talk by Rachel Lynn Solomon, The Worst Best Man by Mia Sosa
Grumpy/Sunshine: Act Your Age, Eve Brown by Talia Hibbert, Written in the Stars by Alexandria Bellefleur, Managed by Kristin Callihan
Gwen's favorite tropes and recs:
Second chance romance: the Netflix movie, Always Be My Maybe (come for feelings, but stay for KEANU!)
One-night-stand who ends up being the boss/co-worker/neighbor: Mer-Der on Grey's Anatomy (this EXACT moment, LOL)
Love triangle: Vampire Diaries (Danielle snuck in a rec for One to Watch by Kate Stayman-London!)
Recs from REESE RYAN
Reese has all the books out: WAKING UP MARRIED, SECOND CHANCE ON CYPRESS LANE, SOMETHING ABOUT YOU.
She's been using Sarra Cannon's HB90 organization bootcamp plan to stay focused.
Authors she enjoys reading: Rochelle Alers, Maisey Yates, Kathy Douglass
Check out her YouTube chat show, The Story Behind the Story (and so you can see her cute nose ring).Some of her favorite chats have been with Beverley Jenkins and Brenda Jackson and she's excited to talk to Talia Hibbert and Donna Hill
Look for a new continuity series by Reese, Karen Booth, and Joss Wood about foster brothers this fall: HOMECOMING HEARTBREAKER by Joss Wood (July), BEST LAID WEDDING PLANS by Karen Booth (August), and JUST A LITTLE MARRIED by Reese Ryan (September)
Visit https://www.reeseryan.com/ for more information and to sign up for Reese's newsletter. You can follow her on Twitter, Facebook, Facebook Reader Group, and Instagram.
Goals/Comfort & Joy
Danielle's (almost) no-coffee experiment continues, and now she wants to travel safely to see her family. She's also obsessed with the Etsy shop, Fugly Barbie! Some of her faves: Cute Spooky Vibes sweatshirt, Romance Noves are My Therapy sticker, Support Your Local Coven tee, and Hot and Steamy mug.
Gwen did not unpack, but she does have to do it... eventually. She'd like to stop crossing her legs under her while she works at her desk, and has enjoyed watching In The Heights and Hacks, both of which are on HBO Max.
Find us on the Socials!
Gwen @ReelVixen
Danielle @dj_dresser
Fresh Fiction @FreshFiction