Episodes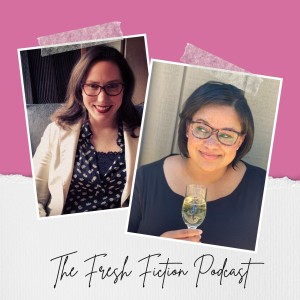 Thursday Sep 30, 2021
Thursday Sep 30, 2021
Vibe Check
D had a busy week dealing with her daughter's cold, but she was able to see her new, grown-up friends! G's mom is visiting her in WA and she got to show off some of her favorite places in her new home.
 *
SECOND CHANCE ROMANCE DISCUSSION
A great place to hear more about second chance romance is our interview with Reese Ryan, who wrote three second chance romances in 2020: Second Chance on Cypress Lane, Secret Heir Seduction, and A Reunion of Rivals
Gwen's Recs:
Movies - Always Be My Maybe, The Philadelphia Story, heartbreaking version of Wuthering Heights from 2011
TV - Ross and Rachel, Lorelei and Christopher, Eleanor and Chidi from The Good Place
Books – Persuasion (The OG Second Chance Romance, in our opinion)
Pop Culture – Ben and Jen 3.0!
Danielle's Recs:
Movies – Sweet Home Alabama, Love and Basketball, Eternal Sunshine of the Spotless Mind, High Fidelity
TV – Mer-Der on Grey's Anatomy (and most of the other major romance storylines on the show... is it nostalgia?), Jess and Nick on New Girl, but also, CeCe and Schmidt's love story is possibly even more akin to a romance novel!
Books - Queen Move by Kennedy Ryan, Once Ghosted, Twice Shy by Alyssa Cole, Recipe for Persuasion by Sonali Dev, A Lot Like Adios by Alexis Daria, One Week to Claim it All by Adriana Herrera (her new book, JUST FOR THE HOLIDAYS will be out in October)
*
Recs from DIANA BILLER
THE BRIGHTEST STAR IN PARIS hits stores on October 12. Pre-order now!
You can also read her debut, THE WIDOW OF ROSE HOUSE, and a holiday novella, A CHRISTMAS SPARK.
Hot take! Diana doesn't believe in ghosts, but she loves writing about them. Also, we all think we will make excellent ghosts one day.
Neuroscience as we know it was really coming into its own during this time (though it wasn't called neuroscience just yet). Diana showed us her copy of Origins of Neuroscience, which looks fascinating... and very dense.
Discovering BTS has brought Diana so much joy (Same, girl!).
Also, she has the best pets! Shout out to Valentino and Giselle!!
We got the scoop on Diana's future release, The Hotel of Secrets, set in Vienna, with a beautiful hotel owner and a reluctant spy. Look for it in early 2023. Please be aware that dates can change (such is publishing!), so sign up for Diana's newsletter to get the latest info.
 *
Goals/Comfort & Joy
Danielle is still scrolling at night, but she is also reading more! Reading a print book with short chapters and very lyrical writing, like the Neapolitan series by Elena Ferrante, has been a huge help. This week, she is VERY determined to finsih the copyedits on THE ACCIDENTAL PINUP. Her new Rothy's Driver Loafers are making her immensely happy.
Gwen has been reconnecting with friends by sending them lovely little gifts and she will continue to work on this because it has been really satisfying. She now wants to focus on making stock because it's soup season! Gwen has started using a Breville milk frother and is making her own lattes at him, which is very comforting.
*
EMAIL US!
Thoughts or questions? Email us at podcast@freshfiction.com.
*
Find us on the Socials!
Gwen Reyes
Danielle Jackson
Fresh Fiction