Episodes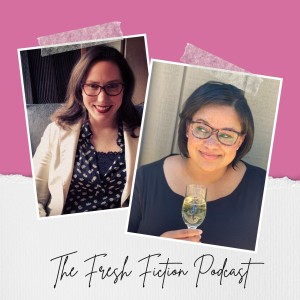 Saturday Oct 15, 2022
Saturday Oct 15, 2022
Vibe Check
Gwen has been all over the country, and she survived almost a full month of constant travel.
Danielle is doing well, but is tired! Our family's fall routine is finally getting into the groove, and she attended a book signing for her friend, Hanna Earnest and her new book, END OF THE DAY.
*
Host Check-In
Gwen traveled for most of the month of September: NYC, Chicago, OKC, and back to NYC. Seeing friends and family and eating good food has refilled her creative well.
Danielle is having a very busy time at the bookstore, is waiting for final word on book 2, thinking about what is beyond book 3, and everything else!
How we cope when we're overwhelmed: Danielle makes lists on lists on lists. Gwen makes charts and tries to journal every morning to organize her thoughts. Also, new candles, taking walks, or watching reality TV.
Get excited for Readers & 'ritas 2022, which is in person in Texas!
Join Danielle and Denise Williams at an LSA Event on 10/22. Also, if you need a gentle writing challenge, check out #FinishUrBookFall, hosted by author Claribel Ortega!
*
Interview with Celestine Martin
WITCHFUL THINKING is now available!
Celestine's Witchy Faves: The Teen Witch starring Robin Lively, The Craft, Charmed (the OG), Practical Magic, The Good Witch, Bonnie Bennet on Vampire Diaries
Fan casting her main characters: Nicole Beharie as Lucy and Winston Duke as Alex
Celestine will be at New York Comic Con on October 7th!
Follow Celestine:
Twitter (where she's most active)
 *
Goals/Comfort & Joy
Danielle was successful in some long-term social media planning (follow her on Instagram for regular giveaways and book recs) and would like to have a successful baby shower for one of her best friends in the next week.
Gwen successfully stayed hydrated through all of her travels and is probably moving in the next few weeks!
Danielle is leaning into all things witchy with the Amenti Oracle Feather Heart Deck by Jennifer Sodini and Modern Witch Tarot Deck by Lisa Sterle.
Gwen found immense comfort in eating Tex-Mex from Chuy's and Texas BBQ while she visited home!
*
EMAIL US!
Thoughts or questions? Email us at podcast@freshfiction.com.
*
Find us on the Socials!
Gwen Reyes
Danielle Jackson
Fresh Fiction