Episodes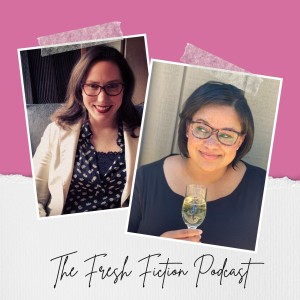 Monday Oct 03, 2022
Monday Oct 03, 2022
Vibe Check
Gwen is doing a lot of reflecting, and successfully booked a hotel for her upcoming trip to NYC. Danielle is getting used to back to school and turned in Book 2.
 *
MESSY CHARACTERS!
This discussion came about purely so we could talk about Carmy from THE BEAR again.
Danielle's TV and Movie Picks: How to Get Away with Murder, Fleabag, Starstruck, Lovesick, New Girl, Insecure, Eternal Sunshine of the Spotless Mind, Harley Quinn, Suicide Squad, Ant-Man, Scott Pilgrim Vs. The World, Bridget Jones's Diary
Gwen's TV and Movie Picks: This Fool, A League of Their Own, The Wedding Season, Euphoria, Girls, most reality TV, and a shout-out to the couples on the I Will Teach You To Be Rich podcast.
Danielle's Book Picks: 99% Mine by Sally Thorne, Act Your Age Eve Brown by Talia Hibbert, Boyfriend Material/Husband Material by Alexis Hall, Such a Fun Age by Kiley Reid
Gwen's Celebrity Picks: Courtney Love, Britney Spears, Adele, and J.Lo and Ben Affleck
*
Interview with Denise Williams
DO YOU TAKE THIS MAN is in stores September 6!
You can find out more about Denise's books and novellas on her website: https://www.denisewilliamswrites.com/
Watching Superstore on Hulu has given Denise great joy and comfort (and we agree)!
Denise has three books planned for 2023: a compilation of her 2022 novellas set at an airport called LOVE AND OTHER FLIGHT DELAYS, a story in the romance anthology EVEN IF THE SKY IS FALLING, and her 4th full-length novel, coming in September 2023—title and cover reveal coming soon!
Follow Denise on the socials:
 *
Goals/Comfort & Joy
Danielle is working on drinking more water and wants to plan out some ongoing social media for her author platforms.
Gwen hasn't been working on her squats, but she would like to join Danielle on increasing her water intake. A new water bottle perhaps?
Danielle is enjoying the Black Girl Magic Red Wine Blend, which was a gift from her author pal Melonie Johnson!
Gwen has been indulging in Crumbl cookies! Particularly the French Silk and Chocolate Chip.
REMINDER: We are taking the month of September off because of travel and new writing endeavors. We will be back in October because it's the most wonderful time of the year: HALLOWEEN!
*
EMAIL US!
Thoughts or questions? Email us at podcast@freshfiction.com.
*
Find us on the Socials!
Gwen Reyes
Danielle Jackson
Fresh Fiction