Episodes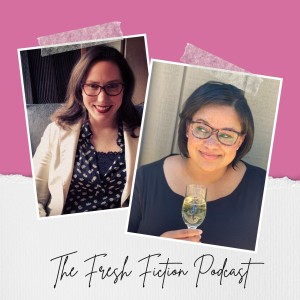 Thursday Apr 27, 2023
Thursday Apr 27, 2023
Vibe Check
We're joined this week by entertainment critic and first repeat FF Pod guest, Susan Kamyab! Coming off of a busy awards season, Susan is enjoying just watching movies as a fan and not a critic. She fulfilled a lifelong dream of doing an hour-long segment about the Oscars on WFAA!
It's almost Spring Break for Danielle and her family and they are READY. This week, Danielle crossed 80,000 words on her WIP!
Is Gwen moving? She doesn't know. But she had a great time at SXSW and a ton of successful events for her day job!
 *
Spring 2023 Media Recs!
MARCH/APRIL
Susan, Movies: Super Mario Bros (4/5), Air (4/5), Paint (4/7), Showing Up (4/7), Beau is Afraid (4/27), Are You There God? It's Me, Margaret (4/28)
Gwen, TV: Succession on HBO (3/26), Yellowjackets on Showtime (3/26), Great Expectations on FX (3/26), Martha Stewart Cooking Show on Roku Channel (4/3), Beef on Netflix (4/6), Below Deck: Sailing Yacht on Bravo(4/10)
Danielle, Books: Hotel of Secrets by Diana Biller (3/28), Blood Debts by Terry J. Benton-Walker (4/4), The Fiancée Farce by Alexandria Bellefleur (4/18), Return to Hummingbird Way by Reese Ryan (4/28)
MAY
Susan, Movies: Guardians of the Galaxy Vol 3 (5/5), What's Love Got to Do With It (5/5), The Little Mermaid (5/26)
Gwen, TV: Fatal Attraction on Paramount (4/30), Queen Charlotte: a Bridgerton Story on Netflix (5/5), City on Fire on Apple TV+ (5/12)
Danielle, Books: An Island Princess Starts a Scandal by Adriana Herrera (5/30), Lore Olympus Volume 4 by Rachel Smythe, Even if the Sky is Falling by Taj McCoy; Farah Heron; Lane Clarke; Charish Reid; Sarah Smith; Denise Williams (5/30)
JUNE
Susan, Movies: Spiderman: Across the Spider-Verse (6/2), Elemental (6/16), No Hard Feelings (6/23), Joy Ride (6/23)
Gwen, TV: Tony Awards on CBS (6/11)
Danielle, Books: To Have and to Heist by Sara Desai (6/13), Love Theoretically by Ali Hazelwood (6/13)
*
You can find Susan Kamyab at http://thischixflix.com/, and on Instagram and Twitter
 *
Goals/Comfort & Joy
Danielle succeeded at writing 15,000 words a week! Now, she needs to start making plans for the launch of ACCIDENTALLY IN LOVE on August 8. She is enjoying the new Toni Morrison Memorial Stamps.
Gwen has started to go through her desk ahead of her move but has more to do. This week she would like to take some clothes to be recycled and get her passport renewed! She's finding joy in the new season of Top Chef: All Stars.
Susan would like to start taking 30-minute walks every day and eat better. Watching movies from her childhood has been bringing her comfort: Smart House, Man of the House, First Kid, Jungle 2 Jungle, George of the Jungle, etc.!
*
EMAIL US!
Thoughts or questions? Email us at podcast@freshfiction.com.
*
Find us on the Socials!
Gwen Reyes
Danielle Jackson
Fresh Fiction