Episodes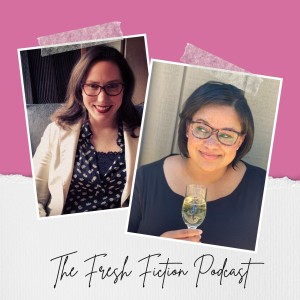 Sunday Oct 31, 2021
Sunday Oct 31, 2021
CALL TO ACTION: For our "listener request" show in November, send us a note at podcast@freshfiction.com and let us know what you want us to talk about: advice, book recommendation requests, gift-giving help, or any topic you wish!
Gwen's had a busy week while her husband has been injured, but she feels like Mary Tyler Moore because she's doing it all.
Danielle has been making the most of the gorgeous fall happening in Illinois, bonfires, hanging out with friends, and more!
*
Paranormal Pop Culture Recommendations
TV
Danielle: Buffy the Vampire Slayer, True Blood, Lost Girl
Gwen: Ghosts on CBS (based on a British series of the same name), Childs Play TV series on SciFi, Bettlejuice animated series,
MOVIES
Danielle: The Addams Family, Casper, Ghostbusters; most of Tim Burton's Oeuvre: Beetlejuice, Edward Scissorhands, Sleepy Hollow
Gwen: Interview with a Vampire (TV series coming soon!), Gaia on Hulu, Brotherhood of the Wolf, Into the Woods
BOOKS
Danielle: Mating the Huntress by Talia Hibbert, Shelley Laurenston, Ilona Andrews; Middle-Grade graphic novel: Séance Tea Party by Reimena Yee, YA graphic novel: Sheets and Delicates by Brenna Thummler 
Gwen: Joe Hill's books combine horror and paranormal (also, he's Stephen King's son)
*
Recs from SULEIKHA SNYDER
Don't sleep on how diverse and speculative Passions was...
The heroine of PRETTY LITTLE LION is an apsara with some added ablities!
Suleikha has been an entertainment writer for years! Some recs: General Hospital, Days of Our Lives, Ted Lasso, Evil
Romance recs: KJ Charles, Holley Trent, Olivia Waite, Beverly Jenkins, Alyssa Cole, Courtney Milan, Melissa Blue, Charlotte Stien (basically just read every book by everyone)
Suleikha finds immense comfort in Ted Lasso, ice cream (specifically Hagen-Das Creamy Mango and anything by Jenni's), soap operas, and her upcoming trip to NYC.
Recs from our Halloween Rapid Fire Round:
Suleikha wants to dress up like Taika Waititi in a pineapple romper, Gwen's all about Jennifer Coolidge's character on The White Lotus, and Danielle is feeling feline (because it's easy).
Halloween Movie recs: the first that came to mind for Suleikha was Nightmare Before Christmas, Gwen loves Hocus Pocus, and Danielle enjoys how The Addams Family is weird and has no rules.
https://twitter.com/suleikhasnyder
https://www.instagram.com/suleikhasnyder/
https://www.tiktok.com/@suleikhasnyder
 *
Goals/Comfort & Joy
Danielle did prep for NaNoWriMo, but because of book 2 revisions, she probably won't be doing it this year. Her new goal is to enjoy Halloween!
Danielle's Comfort: E.L.F. Nourishing Night Cream ($12) and Uoma Drama Bomb Mascara ($20)
Gwen has been getting up early! Her new goal is to mediate for ten minutes every morning.
Gwen's Comfort: Meditation Aromatherapy Roll-On from Pompeii Organics
*
EMAIL US!
Thoughts or questions? And send us your topics for the listener request show! Email us at podcast@freshfiction.com.
*
Find us on the Socials!
Gwen Reyes
Danielle Jackson
Fresh Fiction