Episodes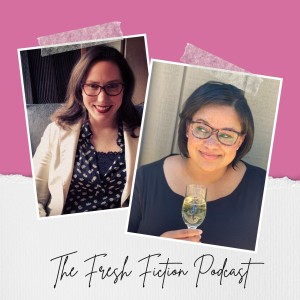 Thursday Mar 24, 2022
Thursday Mar 24, 2022
Vibe Check
Gwen has been traveling and booked movers! Danielle has been going outside and started working on more book 2 revisions!
*
Main Discussion
Self-care has changed so much and is incredibly personal. We're discussing our own self-care practices and how we approach taking care of ourselves.
*
Our interview with KATE SPENCER
Kate's Website
Kate's Instagram
Kate's memoir: THE DEAD MOM'S CLUB
Forever35 Podcast
Book recs from Kate: the entire Ice Planet Barbarians series (and spinoffs!) by Ruby Dixon, PEOPLE WE MEET ON VACATION by Emily Henry, ACCIDENTALLY ENGAGED by Farah Herron, A THOUSAND MILES by Bridget Morrissey (6/21), FUNNY YOU SHOULD ASK by Elissa Sussman (4/12)
Kate has a new puppy! The Encanto soundtrack is giving her entire household life. And she recommends the folk singer Henry Jamison, especially for writing!
*
Goals/Comfort & Joy
Danielle did not clean her desk (and probably won't now that revisions have started) but would like to read a nonfiction book. Gwen did not start going through her closets but thinks packing up her kitchen might be a better place to start.
Danielle loves her Old Skool platform Vans.
Gwen is reading and loving Daisy Jones & the Six by Taylor Jenkins Reid
*
EMAIL US!
Thoughts or questions? Email us at danielle@freshfiction.com.
*
Find us on the Socials!
Gwen Reyes
Danielle Jackson
Fresh Fiction