The Fresh Fiction Podcast is brought to you by REVELL BOOKS and BETHANY HOUSE, publishers of AN HOUR UNSPENT by ROSEANNA M. WHITE.

Welcome back to the Fresh Fiction Podcast. Today I'm thrilled to chat with Roseanna M. White about her new book. AN HOUR UNSPENT plunges readers into England in 1915 as former thief Barclay Pearce tries to redeem himself to society while falling for the woman who he saved from a mugging. 
If you love what you hear there are a few ways you can help us during season two. First, don't forget to subscribe to the Fresh Fiction Podcast on iTunes and Stitcher – or any of your favorite podcast apps. Rating, reviewing, and sharing the podcast with your friends helps us out more than you know. Sharing is caring, as they say.
You can find me on Twitter and instagram as @reelvixen.
You can Fresh Fiction on Twitter, Instagram, and on Facebook.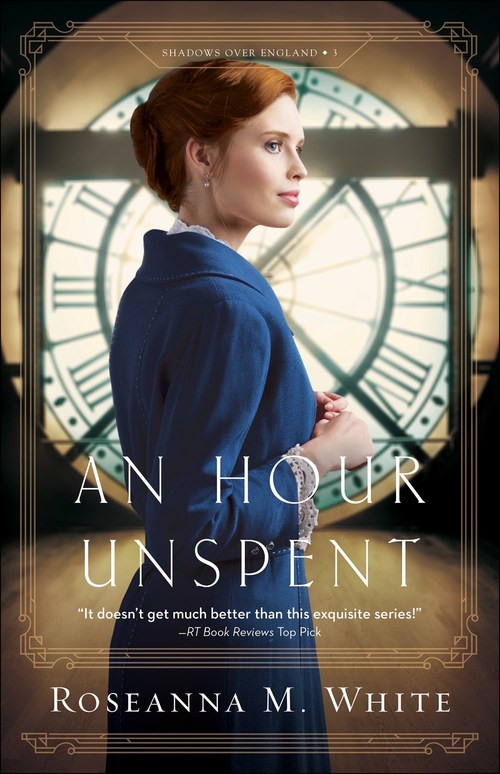 Once London's top thief, Barclay Pearce has turned his back on his life of crime and now uses his skills for a nation at war. But not until he rescues a clockmaker's daughter from a mugging does he begin to wonder what his future might hold.
Evelina Manning has constantly fought for independence, but she certainly never meant for it to inspire her fiancé to end the engagement and enlist in the army. When the intriguing man who saved her returns to the Manning residence to study clockwork repair with her father, she can't help being interested. But she soon learns that nothing with Barclay Pearce is as simple as it seems.
As 1915 England plunges ever deeper into war, the work of an ingenious clockmaker may give England an unbeatable military edge--and Germany realizes it as well. Evelina's father soon finds his whole family in danger--and it may just take a reformed thief to steal the time they need to escape.
Inspirational Historical | Mystery Historical [Bethany House, On Sale: September 4, 2018, Paperback / e-Book, ISBN: 9780764219283 / eISBN: 9781493412440]

Wartime: when the clock ticks but no bell tolls...