Episodes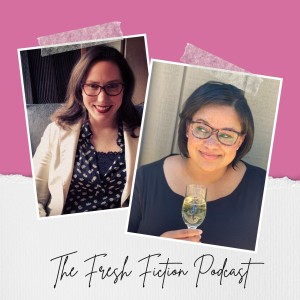 Sunday Apr 10, 2022
Sunday Apr 10, 2022
Vibe Check
It's Spring Break and Danielle is in the thick of book 2 revisions! Also, everyone should check out ALL MY RAGE by Sabaa Tahir. Gwen is MOVING and by the time this episode airs, she will be in her new place!
 *
WEDDINGS!
Danielle got married at the height of Pinterest weddings and made all of her flowers out of paper and book pages. Gwen was 40 minutes late to her outdoor wedding in the hills of Virginia and it had a "movie" theme.
Memorable TV Weddings
Gwen: Kelly and Zack on Saved by the Bell, Luke and Laura on General Hospital, Jim and Pam on The Office, the Red Wedding from Game of Thrones
Danielle: Meredith and Derek on Grey's Anatomy (the post-it note), All of Parks & Rec's surprise weddings, David and Patrick on Schitt's Creek, Ralph Angel and Darla on Queen Sugar
Wedding Movies
Gwen: All versions of Father of the Bride, My Best Friend's Wedding, Bridesmaids, Sex and the City, The Little Mermaid, Pirates of the Caribbean: At World's End
Danielle: Also Father of the Bride, Crazy Rich Asians, The Wedding Planner, Monsoon Wedding, About Time
Pop Culture Moments: Meghan and Harry, Beyonce and Jay-Z, Serena Williams and Alexis Ohanian, John F. Kennedy Jr. and Caroline Bisset
Books: Nora Robert's The Bride Quartet, Bridesmaids Behaving Badly series by Jenny Holiday, D'Vaughn and Kris Plan a Wedding by Chencia C. Higgins, Mia Sosa's The Worst Best Man and The Wedding Crasher
*
Interview with Mia Sosa
Connect with Mia: Website | Newsletter | Instagram | Twitter | Facebook
Romance tropes that Mia loves: Friends-to-Lovers, Fake Dating, Grumpy-Sunshine
What's making Mia happy: Love is Blind on Netflix
*
Goals/Comfort & Joy
Danielle did not read a nonfiction book, but she wants to read You Got Anything Stronger by Gabrielle Union (she also finally cleaned her desk!). This week, Danielle wants to actually read a nonfiction book!
Gwen succeeded in packing up her kitchen stuff and needs to continue to pack because she is literally moving in 24 hours.
Danielle has been reading old school romances: Morning Glory by Lavyrle Spencer and Suddenly You by Lisa Kleypas. Gwen went to her local cookie kiosk!
*
EMAIL US!
Thoughts or questions? Email us at podcast@freshfiction.com.
*
Find us on the Socials!
Gwen Reyes
Danielle Jackson
Fresh Fiction