Episodes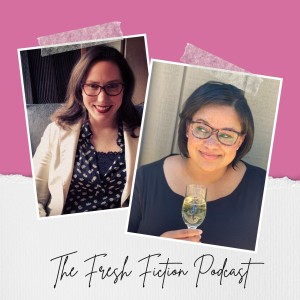 Friday Nov 12, 2021
Friday Nov 12, 2021
Vibe Check
Gwen is leaning into Daylight saving. Danielle did a whole bunch of stuff but still feels like she didn't "do" anything. Gwen learned the importance of cleaning out your fridge. Danielle read a bunch of books (MISS MORIARTY, I PRESUME? by Sherry Thomas, JUST FOR THE HOLIDAYS by Adriana Herrera, THE BAD BOY EXPERIMENT by Reese Ryan, and YINKA WHERE IS YOUR HUZBAND? by Lizzia Damilola Blackburn) and her 8th wedding anniversary is this week!
 *
Pop Culture Pets
GWEN'S RECS: NOODLE THE PUG (tik tok), UP, SECRET LIFE OF PETS , All Disney movies with a journey, VIVO, HOW TO TRAIN YOUR DRAGON, THE CROWN, IT STARTED WITH A DOG by Julia London
DANIELLE'S RECS: Salem on Sabrina the Teenage Witch, Heihei from MOANA, the guard horse from TANGLED, GET A LIFE, CHLOE BROWN by Talia Hibbert, TOO GOOD TO BE REAL by Melonie Johnson, HEARTS OF ALASKA series by Alanna Martin
*
Recs from LUCY GILMORE
The dog show in Lucy's novel is based on Westminster, but on a much smaller scale. As for beauty pageant research? Toddlers & Tiaras!
Lucy is enjoying watching Only Murders in the Building (on Hulu) and recently read Dark Rise by C.S. Pacat.
For self-care, Lucy loves taking her dogs on long walks!
Be sure to follow her on social media for info about her books and all the pet pics:
https://tamaraberry.com/lucy-gilmore
https://twitter.com/Words_by_Lucy
https://www.instagram.com/tamaratamaralucy/
https://www.facebook.com/AuthorLucyGilmore/
 *
Goals/Comfort & Joy
Danielle, and hopefully everyone else, enjoyed Halloween! This week she wants to watch more TV. Gwen did not do morning meditation, but she is going to start journaling every day (Danielle recommended her One Line A Day journal).
Danielle is finding joy in eating leftover Halloween candy, and loose leaf tea from her local tea shop, The Tea Tree. Gwen is enjoying the return of Starbucks's red holiday cups.
*
EMAIL US!
Don't forget to send us your questions/thoughts/ideas for the listener request show later this month. Email us at podcast@freshfiction.com.
*
Find us on the Socials!
Gwen Reyes
Danielle Jackson
Fresh Fiction