Episodes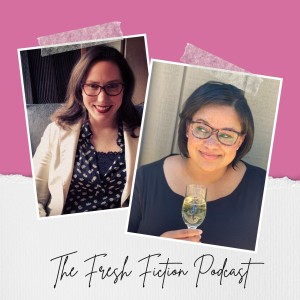 Saturday Mar 25, 2023
Saturday Mar 25, 2023
Vibe Check
Gwen has a lot of upcoming travel and is moving! She is glad to have gotten over her recent cold. Danielle had a lot of things to do over the last week and wonders why everything happens at the same time. She also finished reading all 20+ trade volumes of the Lumberjanes series with her daughter!
 *
Main Discussion
Let's talk fantasy! The differences between Paranormal and Fantasy are vast, but also not quite as different as we thought. Hopefully you can make sense of what we mean.
Danielle and Gwen both like fantasy on the screen more than on the page. The world building must be seamlessly built into the story, and, above all, it has to make SENSE.
PS Danielle is a huge Tolkien nerd and this clip of Stephen Colbert out-nerding James Franco lives rent free in her mind.
TV RECS
Danielle: Pushing Daisies, Shadow & Bone, Once Upon a Time, Merlin, The Magicians
Gwen: The Mayfair Witches, Westworld, The Good Place, House of Dragon/Game of Thrones
MOVIE RECS
Danielle: Lord of the Rings, Encanto, Labyrinth, Willow, Dark Crystal, Pan's Labyrinth, The Princess Bride
Gwen: Mad Max: Fury Road, The Last Unicorn, Everything Everywhere All at Once
BOOK RECS
Danielle: The Night Circus by Erin Morgenstern, A Heart of Blood and Ashes by Mila Vane, The Kingmaker Chronicles series by Amanda Bouchet; Authors I have not read but people LOVE: Sarah J. Maas, Jennifer L. Armentrout, G.A. Aiken
Gwen: Rachel Caine's The Great Library series (start with Ink and Bone), Ruby Dixon's never-ending Ice Planet Barbarians; Abigail Owen's new Dominion series (start with The Liar's Crown)
GAME RECS
Gwen: Ascension deck building, Dragonlance tie-in game and new guidebook
*
Interview with Jennifer Estep
CONQUER THE KINGDOM, now available!
https://www.jenniferestep.com/
Upcoming releases: HEART STRINGS (May 9), GOOD ENEMIES (July 18), SPIDER & FROST (September 26)
Jennifer has been watching Ghosts on CBS!
*
Goals/Comfort & Joy
Gwen wanted to drink more water, and thanks to her cold, she did! This week Gwen wants to clean out her desk drawers before moving. Danielle turned in her pass pages for ACCIDENTALLY IN LOVE (8/8/32). She is determined to write 15,000 words a week through the end of March to finish this WIP.
Gwen is finding comfort in watching Vegas tourism videos ahead of her trip with her husband!
Danielle loves any and all grocery store bakery cookies.
*
EMAIL US!
Thoughts or questions? Email us at podcast@freshfiction.com.
*
Find us on the Socials!
Gwen Reyes
Danielle Jackson
Fresh Fiction