Episodes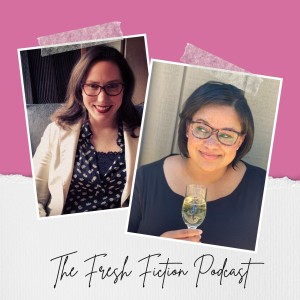 Friday Jan 14, 2022
Friday Jan 14, 2022
Vibe Check
Danielle and Gwen are both basking in the afterglow of taking time away over the holidays and disconnecting! Danielle has been taking care of her health and going to all the doctor's appointments and Gwen has started eating more veggies at every meal.
*
Main Discussion
Gwen's Recs: Sex and the City (also And Just Like That), The Phantom Thread. Halston, FASHION CLIMBING by Bill Cunningham and The Times of Bill Cunningham (documentary film), GRACE by Grace Coddington
Danielle's Recs: The Devil Wears Prada (with the most iconic fashion montage ever), The Mindy Project, Insecure, Project Runway, House of Gucci, IRIS APFEL: ACCIDENTAL ICON by Iris Apfel
We're both obsessed with the anachronistic fashion found on Reign, The Great, Marie Antoinette, and Bridgerton
*
Recs from Mimi Matthews
THE SIREN OF SUSSEX is now available!
Mimi wrote about Victorian Fashion in A VICTORIAN LADY'S GUIDE TO FASHION AND BEAUTY.
Mimi's author and book recs: Lisa Kleypas, Evie Dunmore, Harper St. George, Suzanne Allain, JANE AND THE YEAR WITHOUT A SUMMER by Stephanie Barron
Find Mimi on Twitter, Instagram, Facebook, and on her website, https://www.mimimatthews.com/.
Look for the second book in Mimi's series, Belles of London, THE BELLE OF BELGRAVE SQUARE, in fall 2022!
*
Goals/Comfort & Joy
Danielle has finished her book 2 revisions and will send it to her editor soon. Her new goal is to work on a writing schedule for the first half of 2022! She is also obsessed with Soap and Glory Hand Food hand cream.
Gwen definitely enjoyed traveling over the holidays. She would now like to take 30 minutes every Sunday and set up her journal/plan for the week. Gwen is also loving the Showtime show, Yellowjackets (and Danielle rec'd a recent episode of Pop Culture Happy Hour that does a deep dive on this show).
*
EMAIL US!
Thoughts or questions? Email danielle@freshfiction.com.
*
Find us on the Socials!
Gwen Reyes
Danielle Jackson
Fresh Fiction