Episodes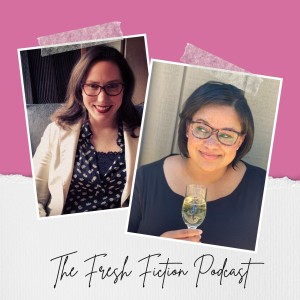 Sunday Apr 24, 2022
Sunday Apr 24, 2022
Vibe Check
Gwen is feeling cozy! Danielle is tired!
Gwen washed and put away all of her clothes after her big move; Danielle made her family pound cake for Easter.
 *
Main Discussion
Let's face it—we love a book adaptation, whether it's on TV or a movie!
Gwen:  You, Trainspotting, The Princess Diaries, Atonement, Virgin Suicides, Normal People
Danielle: Shakespeare remakes—Romeo & Juliet, Romeo + Juliet, Much Ado About Nothing, The Tragedy of Macbeth, 10 Things I Hate About You, O, Hamlet; Austen—Clueless, Emma, Sense and Sensibility, Pride and Prejudice, Pride and Prejudice: Atlanta; TV Adaptations—Poldark, Station Eleven, My Brilliant Friend, Good Omens, "YA": The Lord of the Rings, The Hunger Games, The Hate U Give, To All the Boys I've Loved Before, Heartstopper
*
Interview with ABBY JIMENEZ
PART OF YOUR WORLD, now available!
Nadia Cakes, Abby's cupcake shop (she won Cupcake Wars!)
Movie Deal Announcement for The Happy Ever After Playlist
Abby's Page-to-Screen recs: Warm Bodies, The Hating Game
Gwen's Page-to-Screen recs: Clueless, My Brilliant Friend
Danielle's Page-to-Screen recs: Trainspotting, Little Women
Connect with Abby:
https://www.authorabbyjimenez.com/
*
Goals/Comfort & Joy
Last time, Gwen wanted to finish packing and move... and she did! Now she'd like to organize her pantry. Gwen is also really enjoying Julia on HBO Max.
Danielle tried to read a nonfiction book but did not. This week, she'd like to write something new, not related to what she's working on right now. Related to writing, Danielle has found comfort in long-form journal writing, and Gwen suggested she consider doing The Artist's Way!
*
EMAIL US!
Thoughts or questions? Email us at podcast@freshfiction.com.
*
Find us on the Socials!
Gwen Reyes
Danielle Jackson
Fresh Fiction