Episodes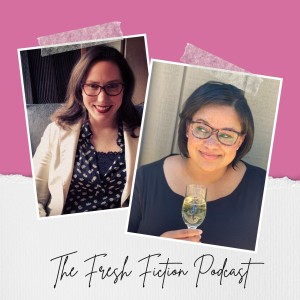 Saturday May 06, 2023
Saturday May 06, 2023
Vibe Check
Gwen has finally moved, and she is traveling for work for the next two weeks!!
Danielle is enjoying this blip of springtime in Chicagoland!
 *
Julia Quinn/Shondaland
The Netflix show, QUEEN CHARLOTTE, goes up on May 4th!
Gwen's favorite Julia Quinn novel is ROMANCING MR. BRIDGERTON (Bridgerton #4).
Danielle's favorite is WHEN HE WAS WICKED (Bridgerton #6)
Gwen loves two of Shonda Rhimes's screenplays: CROSSROADS and THE PRINCESS DIARIES 2: ROYAL ENGAGEMENT.
Danielle of course loves GREY'S ANATOMY, but also STILL STAR-CROSSED.
*
Interview with Julia Quinn
QUEEN CHARLOTTE by Julia Quinn and Shonda Rhimes, available May 9, 2023!
Advice for aspriring romance authors: sit down and write the book! Also, figure out the process that works for you; it will be different for everyone.
MISS BUTTERWORTH AND THE MAD BARON is the graphic novel Julia worked on with her sister, Violet Charles.
Dog-sharing with her neighbors is brining Julia much joy!
https://www.facebook.com/AuthorJuliaQuinn/
https://www.instagram.com/juliaquinnauthor/
*
EMAIL US!
Thoughts or questions? Email us at podcast@freshfiction.com.
*
Find us on the Socials!
Gwen Reyes
Danielle Jackson
Fresh Fiction