Welcome back to the Fresh Fiction Podcast. I'm your host, Gwen Reyes. How often do you fall in love with your coworkers? For many of us, the answer is likely, "ew, never," but author Jennifer Ryan's newest book, DIRTY LITTLE SECRET, brings together two people — a cowboy and a modern lady — who are forced to work together while trying to deny the growing attraction between them. Throw in a ranch and a brothel and you have the makings of a fun romance. Jennifer Ryan is here to talk about DIRTY LITTLE SECRET, her career, and what she's watching, reading, and listening to.
If you love what you hear there are a few ways you can help us during season two. First, don't forget to subscribe to the Fresh Fiction Podcast on iTunes and Stitcher – or any of your favorite podcast apps. Rating, reviewing, and sharing the podcast with your friends helps us out more than you know. Sharing is caring, as they say.
You can find me on Twitter and instagram as @reelvixen.
You can Fresh Fiction on Twitter, Instagram, and on Facebook.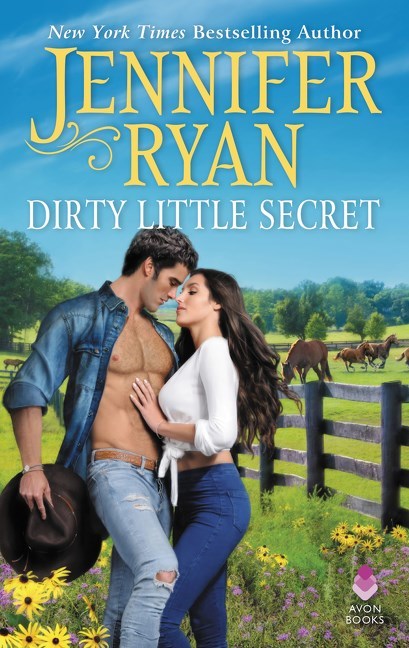 Meet the women from Wild Rose Ranch—and the men who want them—in New York Times Bestselling Author Jennifer Ryan's breathtaking series of romance and scandal . . .
Noah Cordero is a modern-day cowboy who loves three things: ranching, his younger sister, and his step-father. John Cordero groomed Noah to take over the Montana spread where he learned to ride and work the land. But when John unexpectedly dies, he leaves half the ranch to a woman Noah doesn't even know.
Roxy shares Noah's last name, but not his blood. Estranged from her father, haunted by regrets, and eager to escape her notorious mother's past, she is forced to fulfill her father's last wishes. Inheriting means sharing a home with infuriating, challenging, and oh-so-tempting Noah. But John didn't just make her owner of his ranch and guardian to her sister, his hidden sideline is her worst nightmare—she's the new owner of the notorious Nevada brothel called Wild Rose Ranch where she grew up.
As their strictly business relationship starts to turn to true love, Roxy begins to wonder, what will happen when Noah discovers her dirty little secret?
Romance Contemporary | Romance Western [Avon, On Sale: December 18, 2018, Mass Market Paperback / e-Book, ISBN: 9780062645319 / eISBN: 9780062645326]

A DIRTY LITTLE SECRET is revealed