Episodes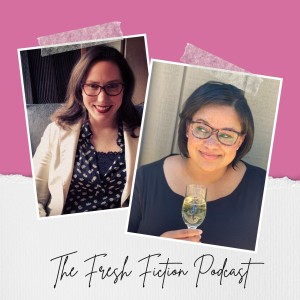 Saturday Dec 11, 2021
Saturday Dec 11, 2021
Vibe Check
Gwen is on a mission to get her cart back! She has not gone to jail and this is a major achievement. Danielle feels accomplished, but is still busy. And she has addressed and stamped her Christmas cards!
Candle Recs from Gwen's Bath and Body Works haul: Champagne Toast, Campfire S'mores, Apple Hot Toddy.
Candle + Tea rec from Danielle: Winter Wonderland (it's LIMITED EDITION at Target) and Winter Wake Up Tea from Trader Joe's
 *
Main Discussion
Old School Holiday Entertainment
Danielle
TV: Star Wars Holiday Special, Pee Wee's Playhouse: Christmas Special, Disney Christmas Parade
Movies: How the Grinch Stole Christmas, Rudolph the Red-Nosed Reindeer, A Charlie Brown Christmas, A Christmas Story, Home Alone 1 & 2
Books: The Best Christmas Pageant Ever by Barbara Robinson, Babysitters Club Christmas books
Gwen
TV Specials: The Spirit of Christmas
Movies: Muppets Christmas Carol, Mickey's Christmas Carol, Mr. Magoo's Christmas Carol.
Books: The Nutcracker
New School Holiday Entertainment
Danielle
TV: The OC/Chrismukkah, A Very Murray Christmas, The Kacey Musgraves Christmas Show, Mariah Carey Magical Christmas Special & The Magic Continues
Movies: A Christmas Prince, The Princess Switch, 8-Bit Christmas
Books: Christmas Miracle in Jamaica by Ann McIntosh, What He Wants for Christmas by Brenda Jackson, Just for the Holidays by Adriana Herrera, OMG Christmas Tree by Stephanie J. Scott, A Princess for Christmas and Duke Actually by Jenny Holiday, Lady Sophie's Christmas Wish by Grace Burrowes. Also, there are a TON of sexy Santa romances.
Gwen
TV: The Office Christmas episodes!
Movies: A Castle from Christmas, a Clusterfunke Christmas
Books: The Matzah Ball by Jean Meltzer
*
Recs from ROAN PARRISH
The Garnet Run Series: BETTER THAN PEOPLE, BEST LAID PLANS, THE LIGHTS ON KNOCKBRIDGE LANE
THE LIGHTS ON KNOCKBRIDGE LANE is the first Harlequin category romance to feature a same-sex main couple.
Smitten Kitchen "Craggy" Pumpkin Bread
Dear Romance Writer Podcast
Birding has brought Roan immense joy!
Coming soon: THE HOLIDAY TRAP (rom-com, house-swap, double romance; 9/6/22) and THE UNHAUNTING OF CASPER ROAD (final in the Garnet Run Series, Halloween romance, late September '22)
https://twitter.com/roanparrish
https://www.facebook.com/roanparrish/
https://www.instagram.com/roanparrish/
 *
Goals/Comfort & Joy
Danielle has completed her Christmas shopping, overachieving on last episode's goal of finalizing her lists. This week, she wants to finish The Story of the Last Child, the final book in Elena Ferrante's Neapolitan series. Danielle's comfort: the return of the podcast For Colored Nerds
Gwen wanted to get better sleep and she is working on it! This week, she'd like to finish her Christmas shopping.  Gwen's comfort: Salt & Straw Ice Cream
*
EMAIL US!
Thoughts or questions? Email us at podcast@freshfiction.com.
*
Find us on the Socials!
Gwen Reyes
Danielle Jackson
Fresh Fiction