Episodes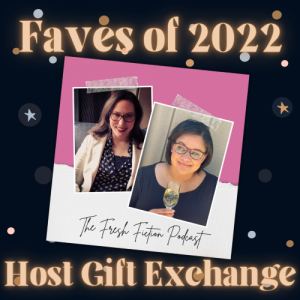 Sunday Jan 01, 2023
Sunday Jan 01, 2023
Vibe Check
We're ready for the holidays! Also, it's COLD. Danielle has finished her Christmas shopping and Gwen attended TWO Christmas markets.
 *
Faves of 2022
Both of your girls are dealing with feelings about media consumption—being okay with being behind and not being the target audience for everything anymore.
TV
Danielle: The Bear on FX/Hulu, Heartstopper on Netflix, Ms. Marvel on Disney+, Abbott Elementary on ABC, My Brilliant Friend on HBO Max, Miss Scarlett and the Duke on PBS
Gwen: The Bear, The White Lotus, The Handmaid's Tale, Harry and Meghan doc, Rick and Morty, Abbott Elementary, Hacks, Bad Sisters, Yellowjackets, Wednesday, The Dropout, WeCrashed
MOVIES
Danielle: Black Panther: Wakanda Forever, Turning Red, Catherine Called Birdy
Gwen: Everything, Everywhere, All at Once; Turning Red, The Princess, Barbarian
BOOKS
Danielle: Kamila Knows Best by Farah Heron, After Hours on Milagro Street by Angelina M Lopez, Remarkably Bright Creatures by Shelby Van Pelt, Fake It Till You Bake It by Jamie Wesley, Stirring Up Love by Chandra Blumberg, Pride and Protest by Nikki Payne, My Aunt is a Monster by Reimena Yee, Wash Day Diaries by Jamila Rowser and Robyn Smith
Gwen: A Caribbean Heiress in Paris by Adriana Herrera, Meet Me in the Bathroom by Lizzy Goodman, The Accidental Pinup by Danielle Jackson
MISC.
Danielle: Vitamin String Quartet (music), Renaissance by Beyonce (music), It's Been a Minute with new host Brittany Luse (podcast)
Gwen: Wet Leg by Wet Leg (music); I Will Teach You to Be Rich by Ramit Sethi (podcast), Articles of Interest (podcast, specifically the Prep season); You Must Remember This (podcast, erotic 80s); Spectacle (podcast, true crime); The Missing Pages (podcast, literary scandals); The Pixies (music)
*
Host Gift Exchange!
Danielle's gift from Gwen: a LizzyKate tea sampler: St. Nick's Tea, Cranberry Hibiscus, Masala Chai, and Moroccan Mint and a tea-tasting notebook!
Gwen's gift from Danielle: You Already Have the Answers: A Gratitude Journal by Amanda Deibert and a Felt Flower Making Kit
 *
Goals/Comfort & Joy
Last ep, Danielle said she needed to clean her desk. She actually cleaned her desk and her entire house, but now her desk is a mess again. This week, she needs to do ACCIDENTALLY IN LOVE copyedits! She has also been enjoying Doritos 3D Crunch snacks.
Gwen wanted to get into a better nighttime face washing routine so she could use her new, fancy La Mer product, and she has started! This time, Gwen wants to start prepping for her big 2023 project: making all of the recipes in America's Test Kitchen Cooking for Two Cookbook! Gwen is also having all the egg nog lattes (and neither host likes egg nog on its own).
*
EMAIL US!
Thoughts or questions? Email us at podcast@freshfiction.com.
*
Find us on the Socials!
Gwen Reyes
Danielle Jackson
Fresh Fiction