Episodes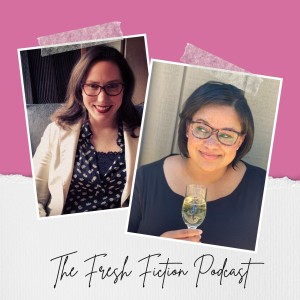 Sunday Dec 26, 2021
Sunday Dec 26, 2021
Vibe Check
Danielle and Gwen both can't sleep and are very tired. No one at Fresh Fiction told Danielle about her book's cover reveal and it went really well; the cover of THE ACCIDENTAL PINUP is now out in the world! Gwen made two new recipes ahead of the holidays: beef pot roast stew and apple cranberry sauce.
*
Our Faves of 2021!
Danielle's Faves
TV: Only Murders in the Building, Ted Lasso, Virgin River Season 3, Insecure, Dickinson
Movies: Raya and the Last Dragon, The Mitchells vs. The Machines, In the Heights, Passing (Danielle mentioned a Reddit thread and Salon article about the book Passing by Nella Larson, how it relates to The Great Gatsby, and how perhaps Gatsby was passing, too)
Books: Sisters in Arms by Kaia Alderson, The Fastest Way to Fall by Denise Williams, Love in Colour by Bolu Babalola
Gwen's Faves
TV: Tuca & Bertie season 2, Rick & Morty, Succession, Hacks, White Lotus, Insecure, Ghosts
Movies: King Richard, Tick, Tick, Boom; Malignant, Candyman, Barb and Star Go to Del Mar
Board Games: Fort, Abandon All Artichokes, Accension Realms Unraveled
*
2021 "SENIOR SUPERLATIVES"
The Media that Saved You
Gwen: Podcasts and reality TV
Danielle: Graphic novels
Something That Made You LOL
Danielle: Nailed It! On Netflix; this clip of Prince Harry and Prince William doing obstacle courses set to Do You Remember 
Gwen: Noodle the Pug
Under the Radar
Gwen: Bo Burnham's INSIDE
Danielle: We Are Lady Parts on Peacock (Premium)
Wild Card
Danielle: Romancelandia Stickers
Gwen: Alba Botanicals Natural Vegan Jelly
What We Want to See in 2022
What we hope to see in entertainment in 2022
Gwen: History, but not just what we're already used to
Danielle: Diverse stories, more voices represented, and more HAPPY content.  
*
Goals/Comfort & Joy
BIGGEST GOAL FLOP FROM 2021
Gwen: Drinking water
Danielle: Re-reading Austen
BIGGEST GOAL SUCCESS FROM 2021
Danielle: Anything writing related
Gwen: Uncrossing my legs at my desk
BIG GOAL or INTENTION for 2022
Gwen: Creating and finishing something
Danielle: ENJOY releasing a book! 
GOALS FROM LAST WEEK:
Danielle: Finish The Story of the Lost Child by Elena Ferrante by the end of the year—ALMOST DONE!
Gwen: Finish Christmas shopping—YES!
 *
Gwen's New Goal: Enjoy the next two weeks of traveling
Danielle's New Goal: Book 2 Revisions, round 1. 
*
EMAIL US!
Thoughts or questions? Email us at danielle@freshfiction.com.
*
Find us on the Socials!
Gwen Reyes
Danielle Jackson
Fresh Fiction