Episodes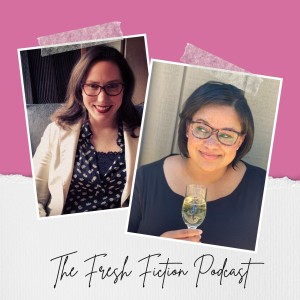 Wednesday Feb 22, 2023
Wednesday Feb 22, 2023
Vibe Check
Yr girls are busy this week with work, writing, and life. But we are getting prepped for Rihanna (and the Super Bowl). Gwen made Death by Chocolate Trifle from scratch, including this Chocolate Pudding and these Outrageous Brownies. Danielle has a plan in place for the next few months of her author newsletter.
*
ESCAPISM WITH INTENT
Danielle's Recs: Movies: Under the Tuscan Sun, How Stella Got Her Groove Back, Brooklyn, The Holiday, Toy Story 4, Wild/Eat Pray Love/Julie & Julia; TV: Schitt's Creek, Ted Lasso, Virgin River; Books: Georgie, All Along by Kate Clayborn, The Widow of Rose House by Diana Biller, After Hours on Milagro Street by Angelina M. Lopez
Gwen's Recs: TV: The Peripheral, Poker Face, The White Lotus; Book: Flirty with Fifty by Jane Porter; Board Games: Pandemic, Takiedo
*
Interview with Rochelle Bilow
https://www.rochellebilowwriting.com/
https://www.instagram.com/rochellebilow
https://twitter.com/BilowRochelle
Rochelle recommends the Olive & June Mani System and the color Caramel Budino
*
Goals/Comfort & Joy
Last time, Danielle wanted to get to 20,000 words in her WIP, and she is at 16,000! Now she needs to spend some time on her pass pages for ACCIDENTALLY IN LOVE. Danielle has been eating all the Girl Scout Cookies, and encourages everyone to buy cookies from Troop 6000, which has scouts in NYC's homeless shelter system: https://www.girlscoutsnyc.org/en/whatgirlsdo/gs-troop-6000.html.
Gwen wanted to fill out her conscious spending plan and has... not. But it is open on her internet browser! This week, Gwen needs to drink more water to help with hydration because it is so dry and cold right now. Leftover Chocolate Pudding is bringing her very much joy right now!
*
EMAIL US!
Thoughts or questions? Email us at podcast@freshfiction.com.
*
Find us on the Socials!
Gwen Reyes
Danielle Jackson
Fresh Fiction