Episodes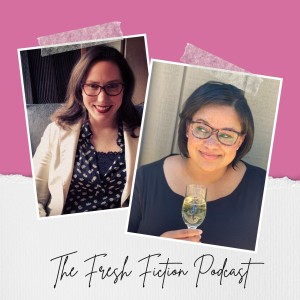 Friday Dec 02, 2022
Friday Dec 02, 2022
Vibe Check
Gwen is prepping for more travel, but is excited to go back to Texas for Readers & 'Ritas. She also scheduled a haircut while she's there!
Danielle is fighting off a cold that will not decide what it's going to be... She and her family had an awesome Halloween in their neighborhood!
*
BORN IN FIRE by Nora Roberts
The first of the Irish Born Trilogy. We LOVED this book. This was also Gwen's first Nora Roberts read!!
Danielle mentioned episodes of Fated Mates and Learning the Tropes, fellow romance podcasts, and Bonnets at Dawn, a podcast about women writers from the 18th, 19th, and 20th centuries.
Danielle's Nora Roberts Recs: Gallaghers of Ardmore series (another series set in Ireland), Bridal Quartet, Chesapeake Bay Series
Gwen's Born in Fire read-alikes: Danielle Jackson (LOL), Stella Cameron, Susan Elizabeth Phillips
*
Goals/Comfort & Joy
Danielle painted Halloween cards and sent them to her friends! This week, she would like to do something nice for her husband for their 9th wedding anniversary. Re-reading the Irish Born series has brought her comfort, as well as watercolor painting regularly.
Gwen made a schedule and stuck to it! This week, her goal is to start prepping for Thanksgiving. She has been drinking a lot of LizzyKate Tea and that makes her happy!
BONUS: the podcast needs to start planning 2023!!
*
EMAIL US!
Thoughts or questions? Email us at podcast@freshfiction.com.
*
Find us on the Socials!
Gwen Reyes
Danielle Jackson
Fresh Fiction