Episodes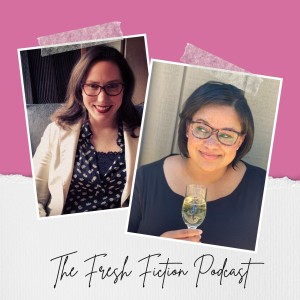 Friday Feb 18, 2022
Friday Feb 18, 2022
Vibe Check
Gwen is busy but making lists, and took the time to relax by going on a long drive to see the snow. Danielle is being lazy on purpose but did some major Valentine's Day crafting with friends.
Black Romance in Media
MOVIES
Gwen: If Beale Street Could Talk, The Lovebirds, Poetic Justice, Malcolm and Marie, Southside with You, The Bodyguard, Beyond the Lights, Cinderella
Danielle: Love and Basketball, The Photograph, The Incredible Jessica James
TV
Gwen: Insecure, Harlem (also Run the World), Black-Ish, The Wonder Years (new version)
Danielle: Insecure, Queen Sugar, This is Us, Living Single, Girlfriends
CELEB COUPLES
Gwen: Berry Jenkins and Lulu Wang, Oprah and Stedman
Danielle: Gabrielle Union and Dwayne Wade, Beyonce and Jay-Z, Barack and Michelle Obama, Rihanna and A$AP Rocky
BLACK ROMANCE AUTHORS TO CHECK OUT!
Beverly Jenkins, Brenda Jackson, Alyssa Cole, Tracey Livesay, Farrah Rochon, Vanessa Riley, Christina C. Jones, Rilzy Adams, Katrina Jackson, Tasha L. Harrison, Rebecca Weatherspoon, Chencia C. Higgins
*
Recs from JESSICA P. PRYDE
BLACK LOVE MATTERS was in part, inspired by WELL-READ BLACK GIRL by Glory Edim, but with more romance!
Jess co-hosts a podcast called When In Romance, with Trish Brown.
Book recs: LOVE AND OTHER DISASTERS by Anita Kelly, YOU MADE A FOOL OF DEATH WITH YOUR BEAUTY by Akwaeke Emezi (May 2022), TO CATCH A RAVEN by Beverly Jenkins (Aug 2022)
What's bringing Jessica comfort: Star Trek: Discovery on Paramount+
Find Jess on Twitter and Instagram
 *
Goals/Comfort & Joy
Last week, Danielle said she was going to deep clean, and whoo boy, she did NOT. This week, she wants to make her lunch at home to take to work. Gwen absolutely excelled at her daily yoga practice, and this week is going to explore a new part of her neighborhood!
Gwen is obsessed with water in all forms. Danielle highly recommends the Universal Standard Seine skinny jeans (and just about everything else on the site).
*
EMAIL US!
Thoughts or questions? Email us at danielle@freshfiction.com.
*
Find us on the Socials!
Gwen Reyes
Danielle Jackson
Fresh Fiction