Episodes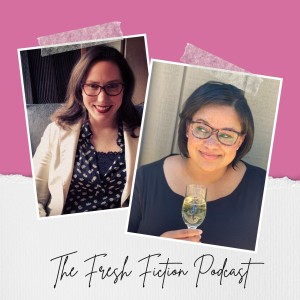 Thursday Sep 02, 2021
Thursday Sep 02, 2021
Vibe Check
Danielle has seen a book cover! And it's great!
Gwen cleaned out her freezer!
Our guest, Susan, wrote two reviews of upcoming movies for her website, http://thischixflix.com/
 *
Our Fall 2021 Entertainment Recs
September
Susan/Film: Shang-Chi and the Legend of the Ten Rings, Candyman, Dear Evan Hansen, The Eyes of Tammy Faye
Gwen/TV: I Know What You Did Last Summer, Doogie, The Wonder Years, Le Brea, Big Sky, ACS: Impeachment, Scenes from a Marriage, The Morning Show
Danielle Books: A Lot Like Adios by Alexis Daria, You Got Anything Stronger? By Gabrielle Union
October
Susan/Film: No Time to Die, The Last Duel, Halloween Kills
Gwen/TV: Succession, Insecure, Queens, Dopesick, The Many Saints of New York
Danielle Books: The Brightest Star in Paris by Diana Biller (future podcast guest!), All the Feels by Olivia Dade, Taste: My Life Through Food by Stanley Tucci
November
Susan/Film: Eternals, Ghostbusters: Afterlife, Top Gun: Maverick, House of Gucci,  
Gwen/TV: The Great season 2, Dexter: New Blood
Danielle Books: Terciel & Elinor by Garth Nix, Donut Fall in Love by Jackie Lau, Miss Moriarty I Presume by Sherry Thomas
December
Susan/Film: Spider-Man: No Way Home, The King's Man, The Matrix 4
Gwen/TV: Netflix Christmas movies and finding time to watch all the shows we didn't watch the rest of the year!
Danielle Books: The Love Con by Seressia Glass
*
Goals/Comfort & Joy
Susan would like to drink more water and have a consistent bedtime routine! She's finding immense comfort in Taco Bell (as we all do) and watching Never Have I Ever on Netflix. You can find Susan's reviews on http://thischixflix.com/. Follow her on Twitter!
Gwen needs to build two desks for her apartment. The weather is cooling off in the PNW, so she's enjoying wearing funny sweaters, and is considering a western-style sweatshirt from Costco!
Danielle must go through her guest room closet. Her quiet house is bringing her so much joy!
*
EMAIL US!
Thoughts or questions? Email us at podcast@freshfiction.com.
*
Find us on the Socials!
Gwen Reyes
Danielle Jackson
Fresh Fiction