Episodes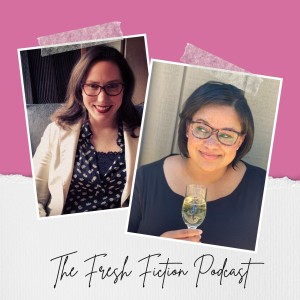 Friday Oct 22, 2021
Friday Oct 22, 2021
Vibe Check
We want to hear from you! For our Thanksgiving episode, we want our listeners to tell us what to talk about! Email podcast@freshfiction.com with your ideas/requests/topics/questions and we'll yammer on about it at the end of November.
 Gwen has made a ton of soup. She is really proud that she had a game night with some of their new friends, and played Abandon All Artichokes, Betrayal at Baldur's Gate, and Clank. Danielle has a wild plan to finish her current WIP and maybe (possibly) write another book before the end of the year...
 *
Main Discussion
We both love witches and the broad scope they cover in entertainment. We both hold the 1996 film THE CRAFT close to our hearts. And we loved the trajectory of a character like the Wicked Witch of the West, who we grew up with in The Wizard of Oz, then saw the flip side of in WICKED by Gregory Macguire, and again with the musical.
Gwen's recs: Hocus Pocus, The VVitch, Tara and Willow on Buffy the Vampire Slayer, Fear Street 1666, Lore Podcast, American Horror Story (Coven and Apocalypse), and Ursula the Sea Witch from The Little Mermaid 
Danielle's recs: The Chilling Adventures of Sabrina, Scarlett Witch from WandaVision, The Ex Hex by Erin Sterling, Witch Please by Anne Aguirre, Big Witch Energy by Kelly Jamieson, Alexis Daria's Audible original: What the Hex, Witches of Brooklyn series by Sophie Escabasse (middle grade), Bad Witch Burning by Jessica Lewis (YA)
*
Recs from LANA HARPER
Lana has written in different genres! Be sure to check out all of her books on her website: https://www.lanapopovicbooks.com/
Lana's Favorite Pop Culture Witches: Buffy the Vampire Slayer, Supernatural, The Chilling Adventures of Sabrina, The Magicians, True Blood. Danielle mentioned the Wicked Witch of the West but also brought up Gregory McGuire's WICKED and the Broadway Musical; Gwen brought up Hocus Pocus and American Horror Story: Coven. Then we all remembered Practical Magic and The Craft!!
Lana finds immense comfort in perfume! She's also enjoying The L Word: Generation Q and For All Mankind.
Look for Lana's next witchy romance, FROM BAD TO CURSED, in Spring 2022.
Follow Lana on Twitter, @LanaPopovicLit, and Instagram, @LanaLyte. For more info, go to her website: https://www.lanapopovicbooks.com/.
 *
Goals/Comfort & Joy
Gwen made so much soup with the stock she made last week! This week she wants to wake up by 6:30am. And she finally got a cozy "shacket," aka a Plush Shirt Jacket from Costco.
Danielle turned in her copyedits! This week she wants to start prepping for NaNoWriMo. And she made Double Chocolate Coffee Addict Cookies by Sweet & Simple Kitchen.
*
EMAIL US!
Thoughts or questions? Email us at podcast@freshfiction.com.
*
Find us on the Socials!
Gwen Reyes
Danielle Jackson
Fresh Fiction