Episodes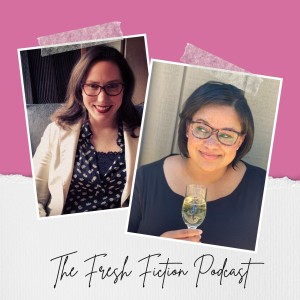 Tuesday Dec 13, 2022
Tuesday Dec 13, 2022
Vibe Check
It's cold in Chicagoland and Seattle, but Danielle and Gwen are staying cozy.
Danielle hosted a couple of great bookstore events this week, while Gwen co-hosted Readers & 'ritas in Texas.
*
Gift Guide 2022
For Your Fancy Friend
Danielle: Voluspa Mokara Candle
Gwen: A spa gift card. My local recommendation is Yaun Spa
For the Sports Fiend
Gwen: Gritty plush
Danielle: Lewis Hamilton Funko Pop
For a Book Lover
Danielle: Check your local independent bookstores for SIGNED copies! They make excellent gifts for book lovers. Anderson's Bookshop has a vast collection!
Gwen: A fresh journal to document 2023's TBRs and reads. Read Between the Lines has some adorable options, but also look for local spots to support your community
For the Crafter
Gwen: A cross body style apron from Hedley and Bennett
Danielle: Michael's Felt Applique Kit
For a Woo-Woo Witch
Danielle: The Modern Witch Tarot Journal
Gwen: Cantrip Candles
For the Kiddos
Gwen: A big cozy blanket shaped like an animal
Danielle: Anything and everything Squishmallows
Also, a Costco-sized box of BandAids
*
Goals/Comfort & Joy
Long-term Goal Check-In:
Danielle has started working on her writing routine and has some outlines to get her started on new drafts in the coming month or so.
Gwen definitely did Fall activities but did not keep up with intermittent fasting during her busy travel season.
Last Episode Goal Updates:
Danielle didn't really do anything extra for her anniversary, but had a lovely weekend with her husband celebrating 9 years! This week, Danielle needs to clean her desk. Danielle's IMAK RSI Smart Glove 2-Pack (recommended by fellow author Hanna Earnest) is helping her wrists while drafting.
Gwen has prepped  for THanksgiving and just needs the big day to get here for a Friendsgiving celebration. Her new goal is to wash her face at night and use her new splurge on La Mer! Gwen has been wearing Bombas merino wool long socks to stay warm.
*
EMAIL US!
Thoughts or questions? Email us at podcast@freshfiction.com.
*
Find us on the Socials!
Gwen Reyes
Danielle Jackson
Fresh Fiction